Welcome to the Wiki!

Welcome to the Fate/Crossover Wiki!
We are currently editing 14 articles and have been since our founding in 2017.


This a wiki of fan-invention. Fans of the series are free to create their own versions of famous characters of various franchises, their own original characters, their own storyline(s), and much, much more!
About Us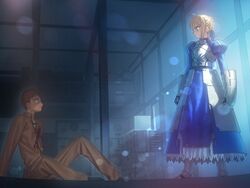 The Fate/Crossover Wiki, founded in 2017 by Benknightprime, is a wiki of fan-invention based in the Fate universe, with characters crossovered from other from other worlds in a Fate style. This would include characters from the likes of Naruto, Avatar, and many more so long as the character can be adequately done in the styling of Fate. Here, we allow users to create their own Fate versions of famous characters from fictitious media and we encourage this type of activity, from making Noble Phantasms based on and skills based on their abilities or events in their lifetimes. Further, the creation of original masters is encouraged to accompany these Fate-ified characters. Users are also encouraged to get to know each other, make friends, and communicate with each other via the Message Walls provided by Wikia to promote a friendly writing environment, as well as allowing them to collect feedback for their works. Our goal is constant improvement in quality and to make a fun environment in which foreign series get mixed with the fun and cool concepts of Fate!